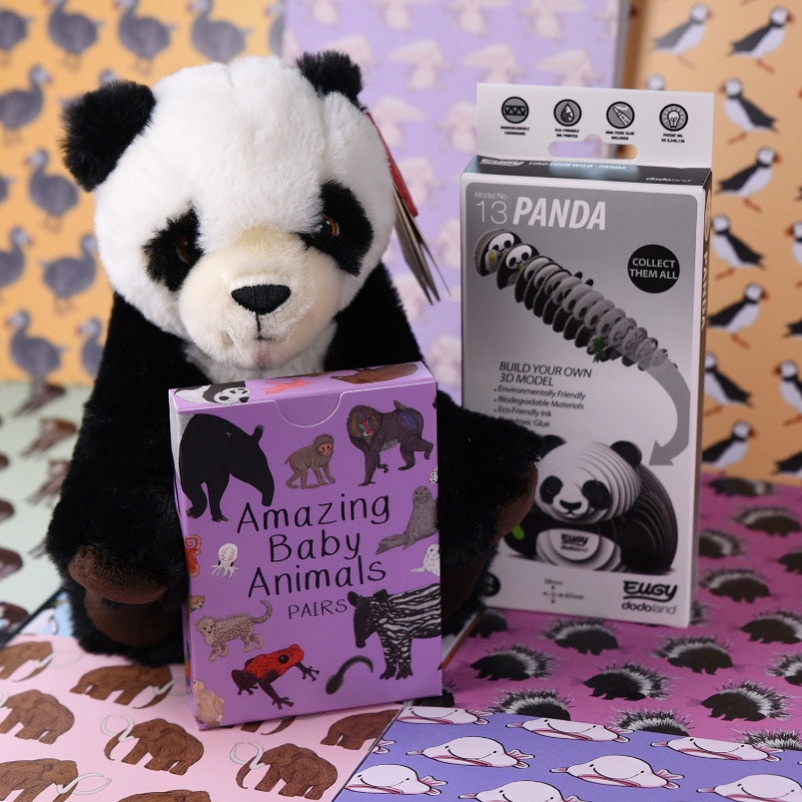 Amazing Panda Gift Set

Perfect for every panda fan 🐼

£26.50
Sorry but I'm currently out of stock!
Raising money for the amazing animals we share the planet with. 5% from every order is donated to various wildlife charities, click here to see who we are raising money for right now.
The perfect gift set for any animal fan especially if they love pandas.
the set includes a pack of our amazing baby animals pairs cards, where you get to match the baby to the adult and see how different they look, a 3d panda model kit and a super soft and cuddly soft toy panda from our eco range, made entirely of recycled materials.
Great for birthdays, Christmas or even just because they deserve a treat.
Amazing Baby Animal Pairs
Introducing a super cute and fun matching pairs set of cards featuring some gorgeous animals as babies and as adults. It's amazing to see how different some of them look when the are babies.
The set includes 36 cards, 18 adults and 18 babies.
The Cards have a bright and funky rainbow back and then each pair has a lovely bright matching background. The adult cards have their name on them and the baby cards have their name and what that type of baby is called so you can learn who they are and the different baby names as you play.
Play pairs or memory and see who can find the most pairs of adult and baby animals.
All kids love to play cards, and matching pairs is such a fun way for them to play and learn at the same time, and with these cards they will be learning about some of the amazing animals that we share the planet with.
Each card is approximately 78 x 108mm

If you are sending your order straight to a friend as a gift you can add a greetings card to the order here and let me know what message you would like written inside.
Illustrated and designed by me in Wiltshire and Printed in the UK, using sustainable card, and coated with a water based finish making them recyclable at the end of their life. Presented in a fully printed and laminated box. CE tested. There is no plastic wrap on any of our products and all items are posted plastic free.
Design Registration 6071217
Panda soft toy
So pleased to introduce these new soft cuddly toys to my range here at Button and Squirt. Not only are these guys super cute they are also made from recycled plastic waste. Turning plastic waste into these super cute soft cuddly toys.
Adorable 18cm Panda. Designed to be floppy and super cuddly for the perfect hug.
Made from 100% recycled plastic fabrics, recycled glass beans and a recycled sew in label.
14 water bottles creates enough fibre for a 25cm toy
10 water bottles creates enough fibre for a 18cm toy.
They have the most adorable embroidered eyes instead of the more traditional hard plastic, again made from the recyceld plastic fibre.
It also uses 59% less energy to make recycled polyester than new.
Fully conforms to european safety standards EN71
The hangtag and manufacturers packaging is all from responsible sources.
Panda 3d model kit
Our new animal 3D model kits make great fun and educational gifts.
This is the giant panda model, one of the super cute amazing animals in the collection.
approx size when built 48mm x 48mm x 40mm
Created in New Zealand, they are 3D puzzle sets made from recyclable cardboard and printed with eco friendly ink. Each puzzle has 24 pieces and comes with non toxic glue for you to stick it together as you build it.
The lovely bright colours and super cute designs will appeal to all ages.
Each kit includes instructions and takes around 20 minutes to build.
The kits help to develop cognitive, coordination and problem solving ability.
Lovely activity to work on together with a parent or for an older child to do alone.
There are lots of designs to choose from, so you can collect them all
Made from environmentally friendly, recyclable biodegradable card and printed with natural eco-friendly ink
Simply fix the pieces together in numerical sequence using the non-toxic glue
Includes fun educational facts.
To build your model
- Carefully push out all of the pieces from the cardboard sheets.
- Each piece of the model is numbered and marked to show which side it is for.
- You simply need to stack them up from the middle on each side.
- Each piece goes on top of the last and you keep it all in place with a couple of spots of glue.
- The models are symmetrical, built from the middle out.
Cute collectible animal and dinosaur themed craft kits. Lots of designs are available. Collect all of these cute and colorful creatures.

Don't forget you can have gifts sent direct, just pop the recipients address in the delivery section at the checkout, to really make the perfect gift you could also add a greetings card, and leave me a note to write a personalised message inside from you to them.