They really are Sensational Butterflies
Posted on
Last week we were invited along to the Natural History Museum, London to check out their new Sensational Butterflies exhibit. So obviously we did our usual jump in the car and head to london for an adventure.
For those of you that don't know about sensational butterflies it is a yearly exhibit held in the grounds of the Natural History Museum on the lawn outside the Cromwell Road entrance, where they have hundreds of butterflies and moths living in a beautifully planted tropically heated marquee. It is an additional ticketed exhibit (don't forget members get into all exhibits for free) and you can grab tickets at the entrance.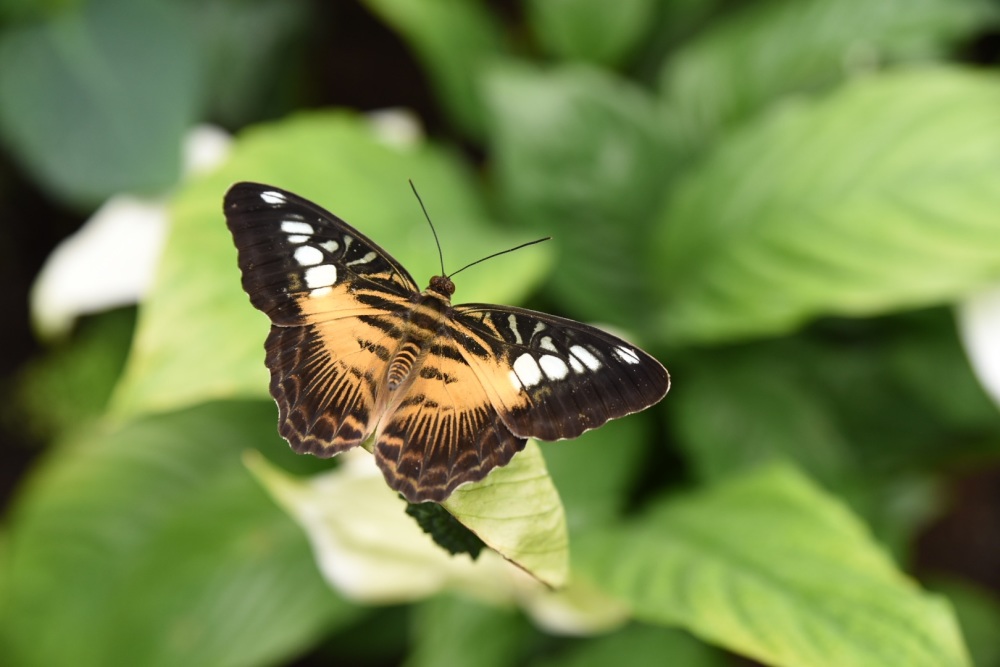 So our invite landed in my inbox and we declared it the perfect excuse for a trip to london (fast becoming our favourite place for a few nights away). We found an apartment on Cromwell Road (I won't be linking it as we werent' very impressed, but it served its purpose for the trip), I did my usual parking search on Just Park (this is not an ad for Just Park, its just my go to solution for parking in London and I know its something a lot of you ask me about, we've saved a lot of money using it and found much more convenient parking spots with it than just using locally advertised parking). Grabbed a space at a local hotel and carried on with planning our trip.
We managed to all get up at the crack of dawn and get on the road super early. We headed straight to the Natural History Museum with two very excited boys who couldnt wait to see all the flutterbies.
As usual the Natural History Museum didnt dissapoint, the security guard stood at the gate greeted the boys, telling them to have fun as they climbed past her on the wall. We did a quick run inside to say hi to Hope and go to the loo then made a beeline straight for Sensational Butterflies.
The boys were very excited to get inside and went bursting straight in. Now here comes my first tip, make sure you are wearing cool cloths, ditch the trousers and the cardigans because they definetly aren't needed. It really is tropical inside. The moment you walk in you are instantly wowed by the beautiful creatures flying around you, everywhere you look you can see gorgeous flashes of colours, delicate wings fluttering past you and seemingly dancing in the air.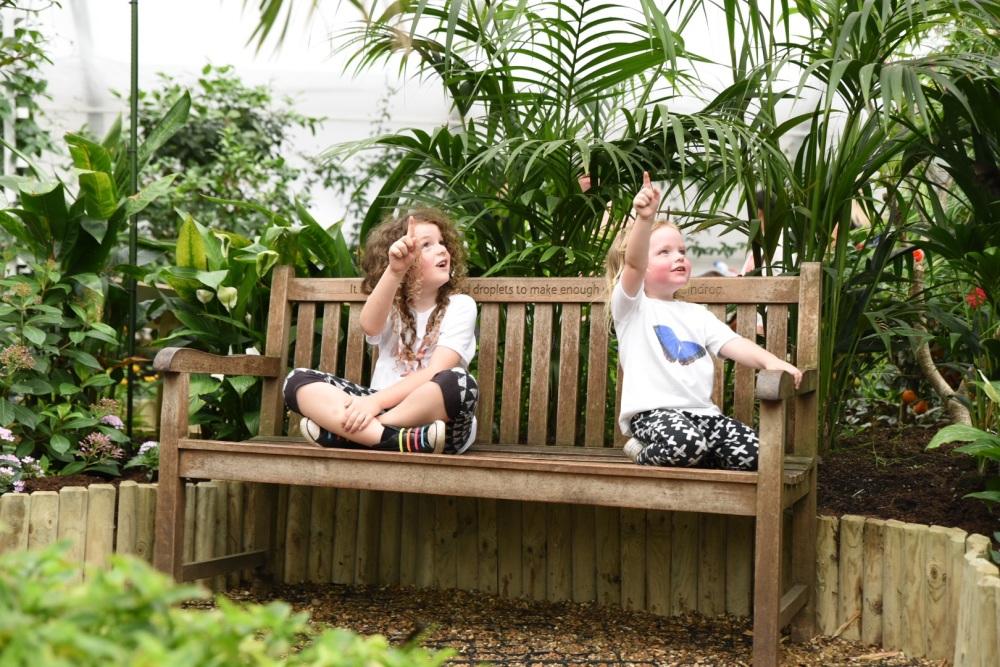 There is so much to see and so much energy moving everywhere around you it really is a breath taking moment. Dex was straight into looking at the signs and trying to identify the various butterflies that were around us. Then we had the excitement of one taking residence on Grinnys top, who actually ended up staying with us for the majority of our visit. Axel freaked out a few times when they got too close but loved watching them fly around and on the plants.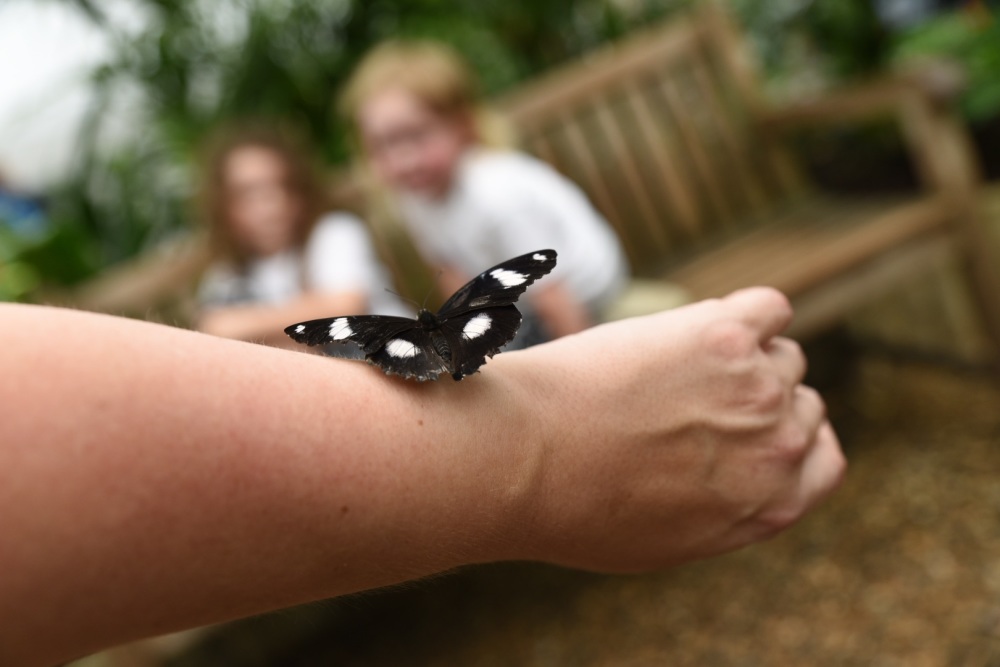 As you walk through the exhibit and start to get used to everything going on around you, you start to notice the smaller things. We found lots of eggs that had been laid on a number of plants and were even lucky enough to watch some being laid, this was kindly pointed out by one of the wonderfull staff who explained what was happening and how they would only lay on this particular plant as that was what the caterpillars would eat when they hatch, the boys were mesmerised.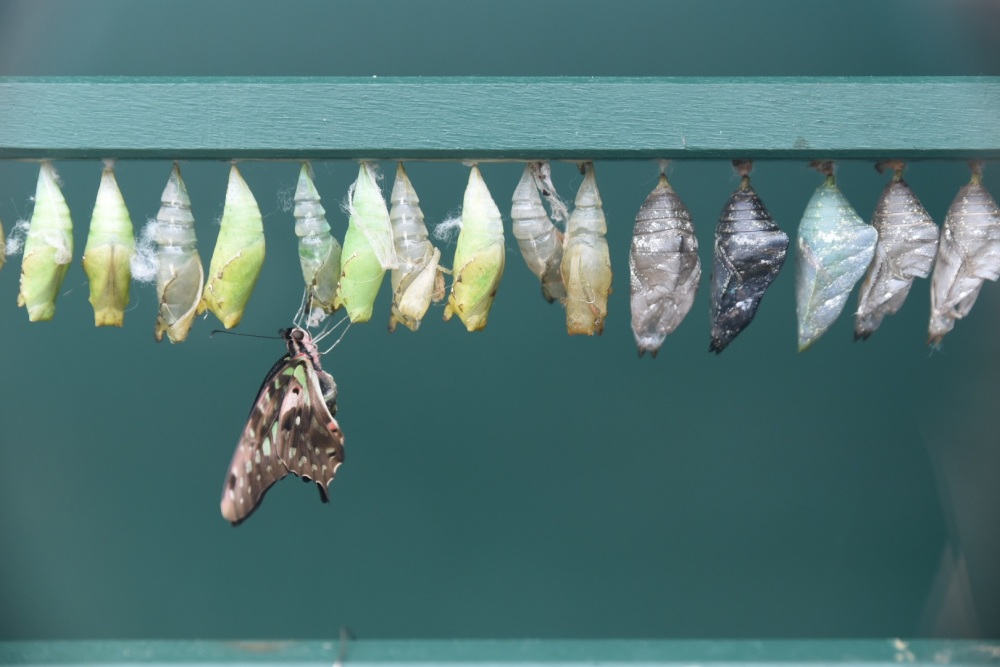 Once you get further round you come to the chrysallis section, hundreds of chrysallis with emerging butterflies, Dex loved this part and spent a lot of time watching the various different types and talking to everyone that stopped to look on their way round. We carried on exploring and went on to find chrysallis on the plants as well, and even came across a couple of butterflies mating. Dex instantly declared they were a boy and girl and must be making babies before heading off to find someone to ask about it. By this point both boys had started to look much closer at everything and were really searching for the hidden gems that Sensational Butterflies had to offer.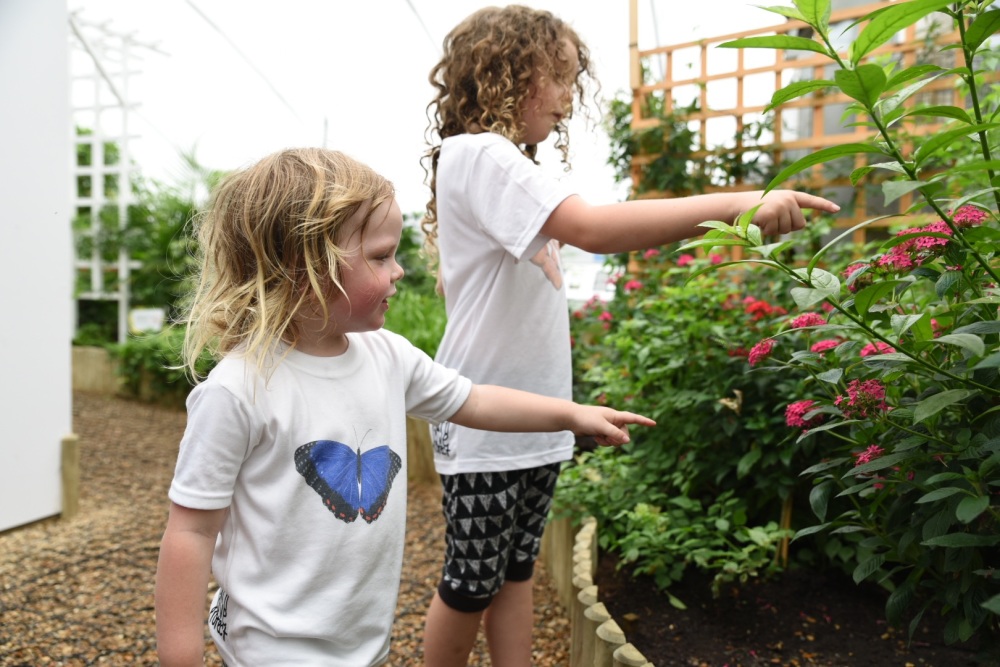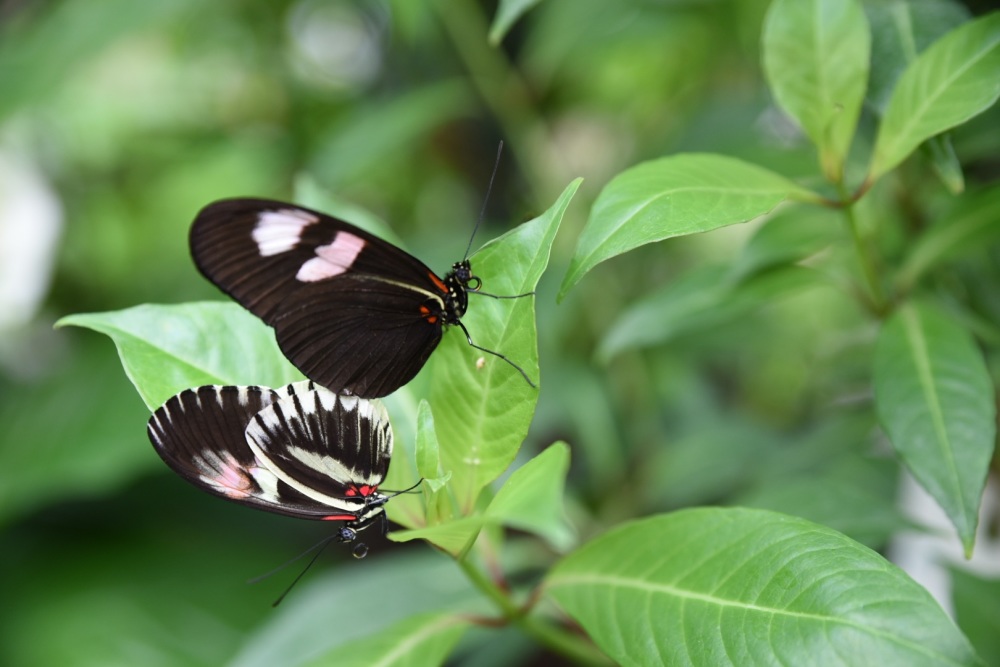 Their beady eyes spotted some rather fabulous looking chrysallis, Dex said he thought they might be from an Atlas Moth, so he asked and low and behold he was right (I wonder why I ever doubt him sometimes lol). He was very lucky and got to have a much closer look at it and learn about how they are made, his face beaming as he took it all in.
He then excitedly took Ax to show him all the butterflies eating on the fruit table before Ax got distracted by the mirror, thats actually there to check you aren't taking any butterflies out with you but apparently its also great for making funny faces.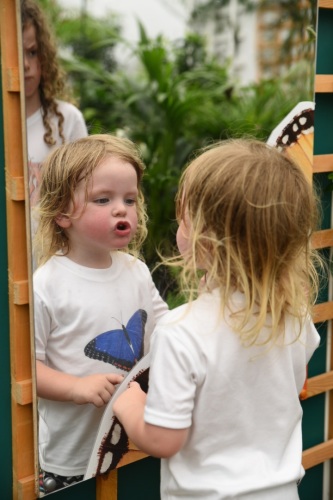 Before we could leave Dex asked to go back and take some photos, he's still dreaming of being a wildlife photographer so often asks to steal my phone or camera to take his own shots. Eventually tho the kids let us leave (Im pretty sure because they spotted the gift shop).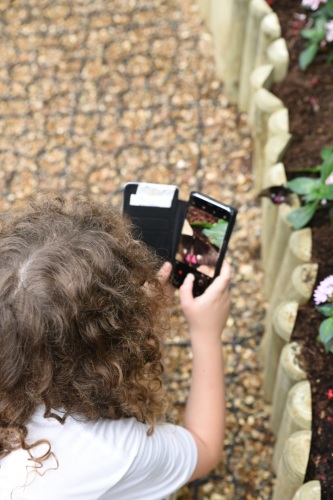 Once again I couldnt fault any of the set up or the staff, everyone we spoke to went above and beyond to answer our questions and show us interesting things, we were constantly greeted with big smiles and enthusiasm.
If your in London then get Sensational Butterflies on your Summer to do list. A great opportunity to get up close and personal with some beautiful creatures and inspire your kids to love the amazing animals we share the earth with. Something you know I am a big advocate of here at Button and Squirt.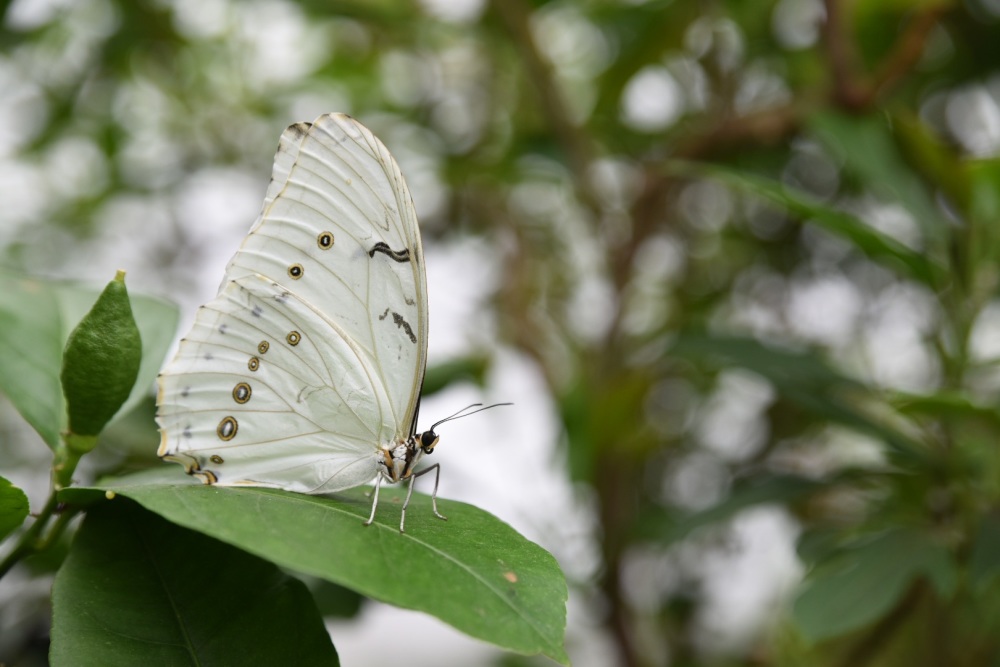 Obviously we didnt escape the gift shop without a little purchase, the blue morpho magnet was a must for the fridge at home and the boys picked a fab book of 100 flying insects which is a book of 100 insect themed paper airplanes, its already given us hours of fun and is set to keep them entertained for a long time.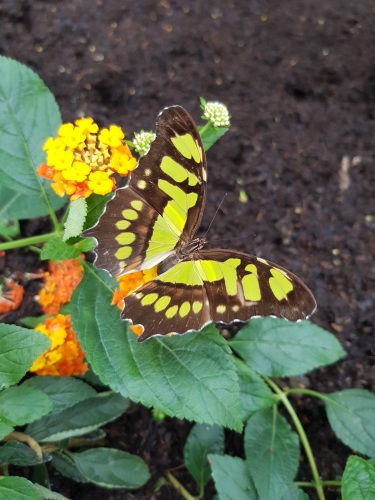 We are going to take this inspirational trip as an excuse to look at butterflies again, so keep your eyes peeled for some more blog posts with some home education inspiration for butterfly projects.
Links you might find useful
Natural History Museum London http://www.nhm.ac.uk
Sensational Butterflies http://www.nhm.ac.uk/visit/exhibitions/sensational-butterflies.html
Natural History Museum Online Store https://www.nhmshop.co.uk
Just Park https://www.justpark.com
Pinterest Board for Butterfly Project Ideas https://www.pinterest.co.uk/Buttonandsquirt/butterfly-home-ed-project/
For your info - Our tickets to Sensational Butterflies were a gift from the Natural History Museum, this is not an ad, all opinions are my own.