This small biz took on Toy Fair ........ and survived
Posted on
Well wasn't that a good few days. Our first toy fair was pretty damn epic, and I thought you guys would want to hear all about it.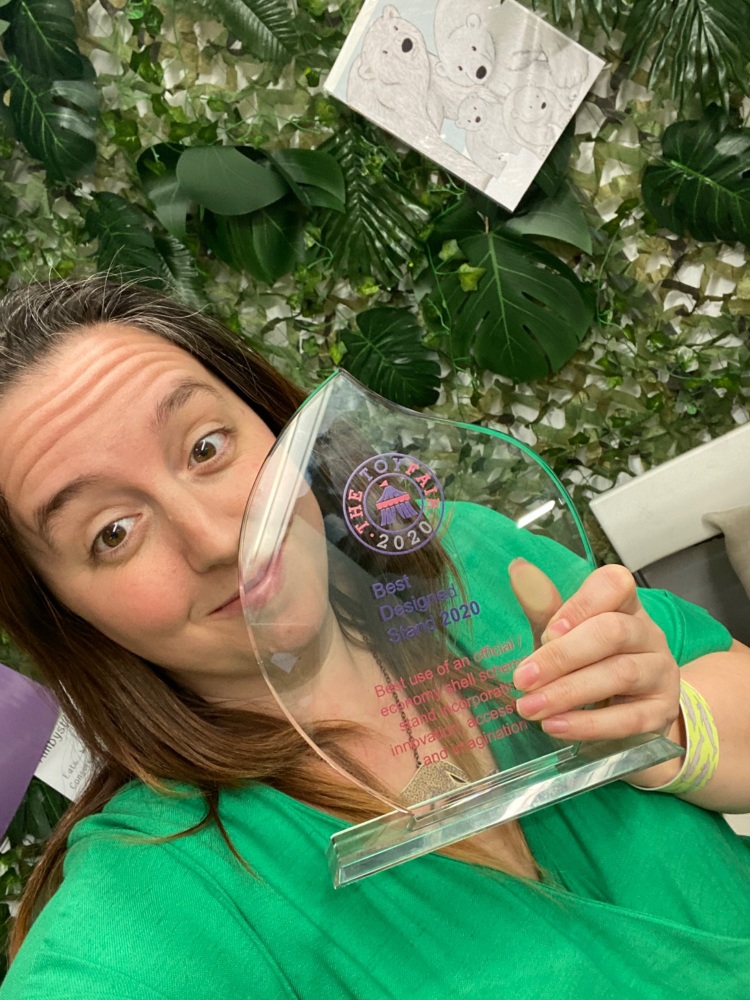 Its now the day after the show and my head is still buzzing. From the amazing people we met, the fun we had playing with all the toys and the shock of winning best dressed stand, its pretty safe to say that we absolutely loved every moment of Toy Fair 2020.
So I feel like this story needs to start in the beginning, which is actually a little bit further back than just this past week. In fact it starts back in 2019, when we were at Autumn Fair, our first trade show, where we met some awesome people. A lot of which said we absolutely had to look into doing Toy Fair, and following some advice from the lovely people at Eduk8 I got in touch to book Toy Fair 2020. I was lucky enough to be able to grab the last stand in the lovely greenhouse section, and with that I was committed to being part of the fun.
Then a couple of months ahead of the show the fun began with working out the set up for the stand, as ever this meant heading to my dads garage, pushing everything out the way and building the right sized stand so that we could come back to it each week and make changes, build displays and work out how we would transform a blank booth into the home of Button and Squirt for a few chilly January days.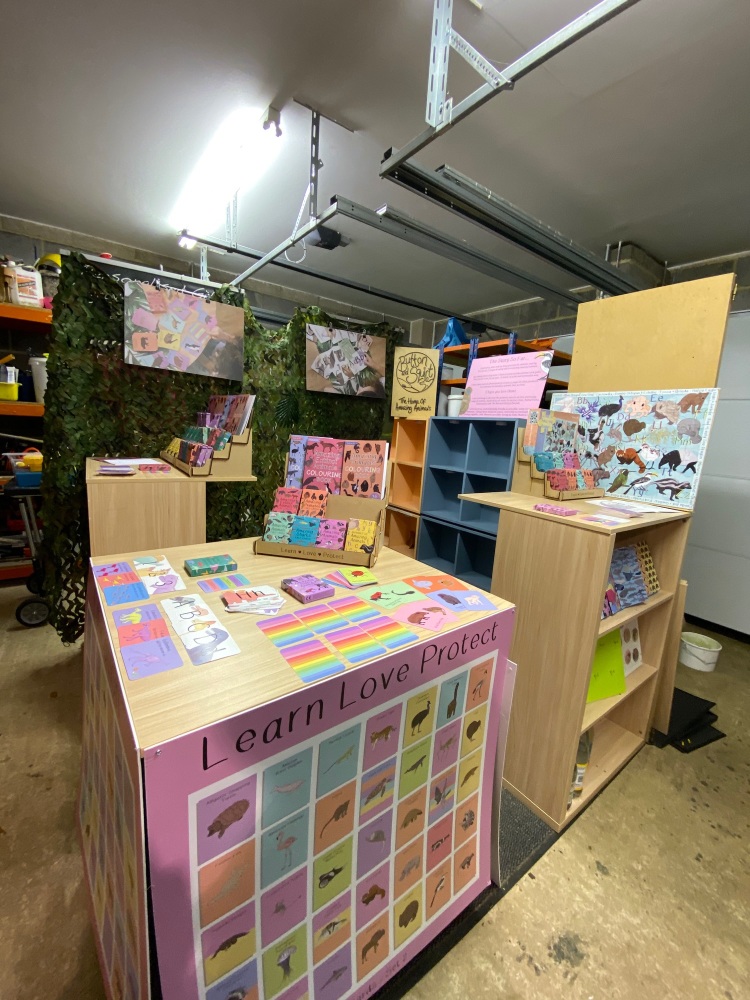 One thing I knew I wanted to do was to create a jungle effect for the backdrop of the stand, we looked at lots of options for creating it and after getting fed up with the crazy prices of some options it was actually my hubby who suggested the system I eventually went with. We got camo netting, lengths of ivy and lots of big tropical leaves, then it was just a case of getting creative to put it all together.
We also decided that the cube units we'd used at previous events were perfect for the new stand, but we wanted deeper tops….step in my dad who actually made new top for them that were the perfect size, and made a table too. Once we combined all of that with the display stands and the products we had the perfect jungle inspired stand to showcase all of my amazing animals.
It's been massively important to me that everything we do for our displays is reusable over and over again and will work in lots of different situations and set ups. When you see how much waste there is involved in these big exhibitions it really makes you want to do your bit to do the exact opposite and make sure everything gets used over and over and over again.
So all of that brings us to the show itself, after a night setting everything up, we arrived at Olympia Tuesday morning ready to tell everyone about the range. Its funny the first day of any event always brings excitement and a big big of nerves, I need to get the first few people under my belt before I really settle into it, and we were so lucky that every single person that stopped by was so positive and excited about my range that it made it so much easier. I kept my expectations quite low for the show as I really had no idea what we should expect to get from it, but I have a theory that if you don't go and try these things you will never know what might work, so we go with low expectations and an open mind and ready to just learn as much as possible.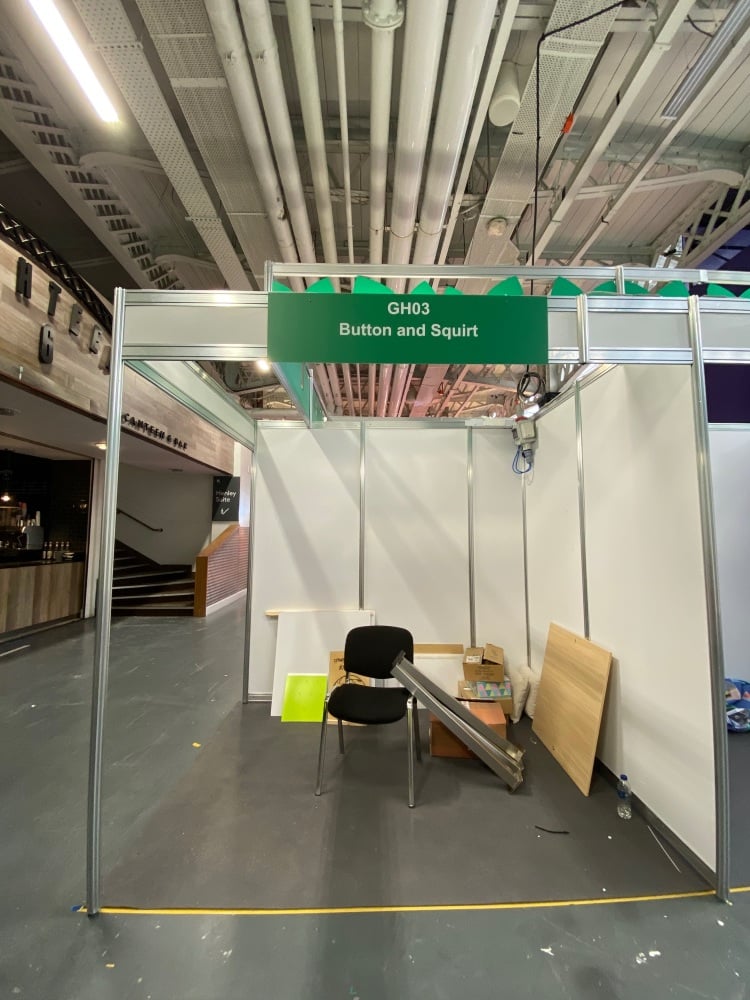 As it happens it turns out that I neednt have set my expectations so low, we were kept busy all day every day talking to so many different people from all different types of businesses and areas of the world, from people running the most amazing small indie shops, to those running fantastic attractions, from people across the Uk to people from literally all over the world, who were all excited to discover Button and Squirt for the first time and wanted to know all about it.
For me, standing in front of someone and getting to tell them about my products, about why I do it all and the hopes and dreams I have for it all is just the best feeling ever, and when they turn around and say they love it and that they want to run it in their shop it really puts me right on cloud nine. Everyone we met was so so so lovely, and I genuinely feel like I've made some new friends both in new potential customers and fellow stall holders (SnapFit I'm looking at you…rematch soon yea?).
But it turns out that that wasn't even all the excitement, we also won the best dressed stand award for toy fair 2020 in the shell scheme section (shell scheme means all of the smaller stands around the show, the ones that have the just basic walls). I didn't actually know that the award even existed, so I was pretty shocked when someone popped along to tell us that we had won. Then later on that day we were visited by the president of the BTHA who presented me with a rather lovely trophy, we had lots of photos taken and did a little interview with the toy news, before also being filmed for toy fair tv. I do have the footage, but right now I cant bring myself to watch it, its safe to say that I really didn't want to do it lol and I now cant bare the thought of actually watching it back…how do people on tv cope?? And to to all the excitement off on the last day we had a visit from the really rather lovely Jason Bradbury from the Gadget Show who did the perfect job of perking things up on the last day.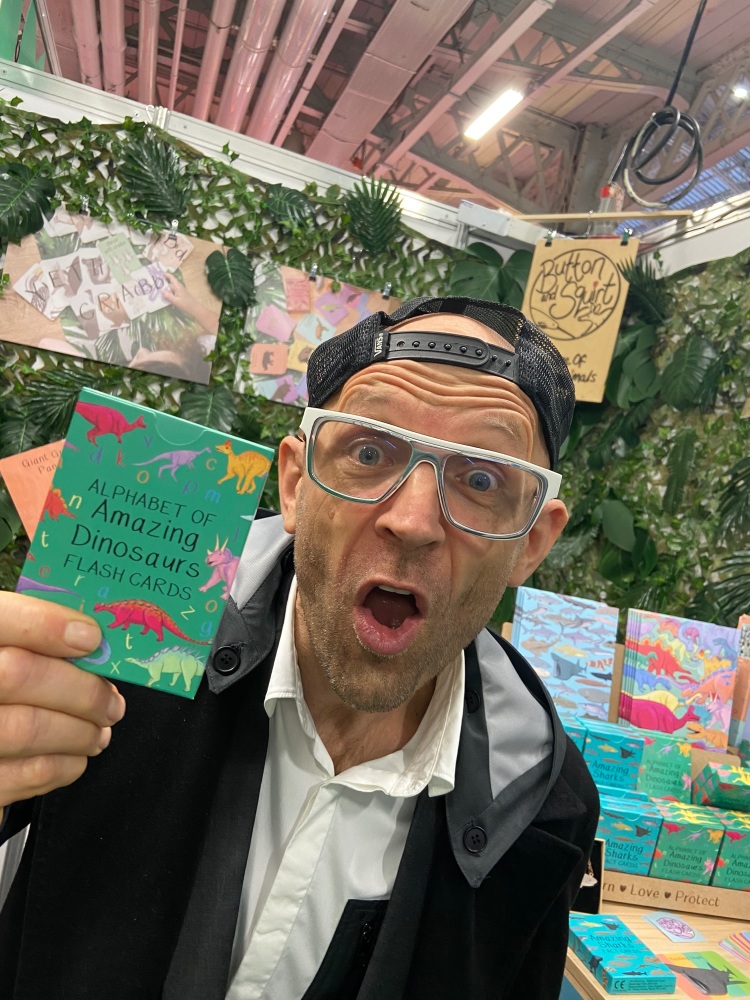 And just like that after all of the excitement of the show it was time to take everything back down and head home back to normality. Breakdown at events is mental, there are people and products, stuff and trolleys everywhere going in every direction, as everyone uses that last bit of energy to get everything down and head home.
We arrived back very late, to discover that a certain little dude known as button was sneakily waiting up for cuddles and to give us some special cards because he was so excited that we'd had such a good show and has decided that his mummy is basically famous now. I'm actually concerned that he will be telling everyone that I've been on tv at every opportunity and then they might want to see the footage, argh.
So all in all its safe to say that we had an amazing time at Toy Fair 2020, we met so many people, lots from my dream list as well as so many more, and its least me extremely excited to see what happens next, I think the next few months have the potential to be epic for Button and Squirt, everyone just keep your fingers, toes and everything else crossed for me.