Competition Time - Create your own Amazing Animal
Posted on
So I thought it would be fun to run a little competition for everyone finding themselves stuck at home with everything we know of normality going out the window. An opportunity to put your knowledge of the animals we share the planet with into creating your very own amazing animal.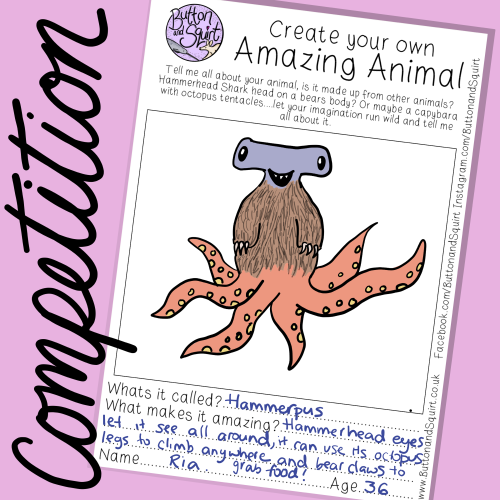 It's really simple to enter, you can download the competition sheet here and print it off. But dont worry if you can't print it you can just use a bit of paper or even do it digitally on a tablet. Then all you need to do is create your animal, draw it and tell me all about it, I want to know what animal parts you have chosen and why and of course what your going to call your amazing animal. Make sure you let me know your name and age too, then send me your entry.


You can post your entry on social media, on my Facebook page, or by tagging me on twitter and Instagram (if you have a private account I won't be able to see your entry so please send it another way or pop me a messsage to let me know). Or you can private message me, or pop it to me by email [email protected]
I will share all the entries online as well, so everyone can see the amazing animals you guys come up with. Then when the competition closes I will get my boys to select some winners ❤️ The winners will receive a special button and squirt amazing animal goodie bag.


Competition closes April 3rd 2020.
Heres the boring bit, my decision is final, no alternatives will be offered. Competition is the sole responsibility of Button and Squirt and has no affiliation nor endorsed by Facebook, Twitter or Instagram. Free to enter.