Working with Wildlife - An interview with Kathryn
Posted on
An interview with.....
This is a new series of blogs, of interviews with some wonderful people who work within the animal industry, from zoo keepers, to museum curators and everything in between and those that are on the path to working in these positions too. Be inspired for a future where you can combine your love of animals with your day job. I hope you enjoy these interviews, that you can learn something from them and they can inspire you.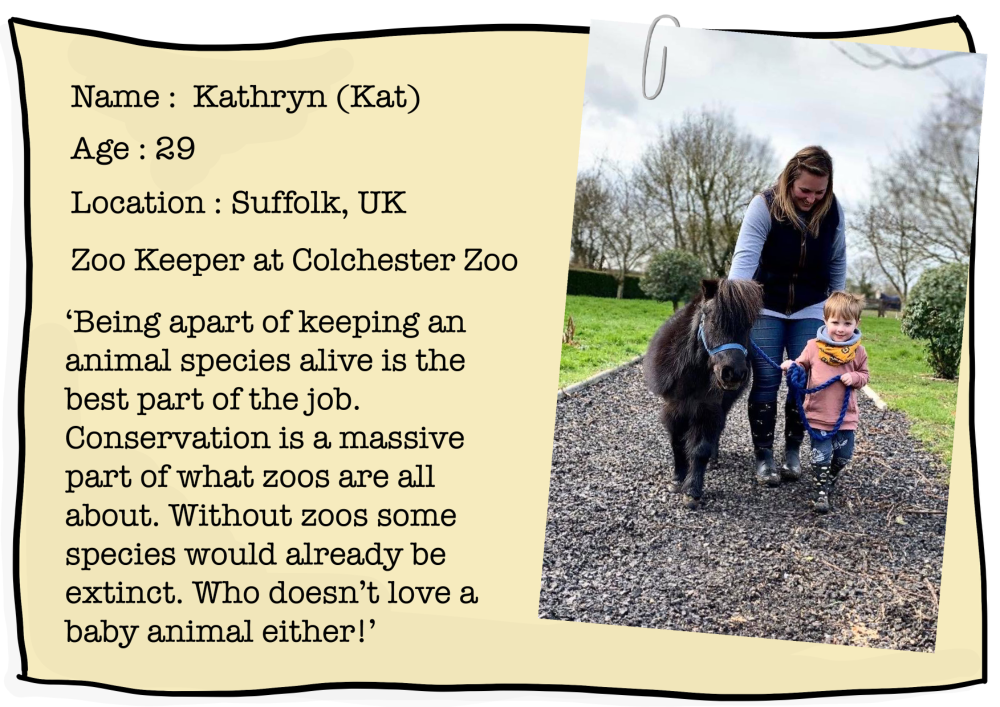 Now please let me introduce you to Kathryn.
Name : Kathryn (Kat)
Age : 29
Location : Suffolk, UK
What do you do? : Zoo Keeper at Colchester Zoo
How did you get into it? : I did an animal management diploma at college….I was never good with exams so chose something a little more hands on.
What made you want to do what you do? : I've always loved animals even from a very young age.
Did you need any particular qualifications? : I was very fortunate to get a job at at the zoo, with my connections from working at my local farm park Jimmys Farm I then got the opportunity to start my career as a zoo keeper. Zoos are a tricky business to get in to and I would always say you could get a 1st in zoology but if you can't sweep…its not for you! Work experience is always a great place to start, the more you know the better.
Any tips for young people interested in doing what you do? : Get as much work experience under your belt as you can….prove yourself to the company you want to be a part of in anyway you can, like becoming a volunteer or internships.
What's the best part of what you do? : Being apart of keeping an animal species alive. Conservation is a massive part of what zoos are all about. Without zoos some species would already be extinct, and who doesn't love a baby animal either!
What's your favourite animal? : Rhinos, they come across as all big, tough and mean by just the way they look but it couldn't be further from the truth!
What was the first animal that you fell in love with? : Koala
Where can people find you? : www.instagram.com/roo_bug_and_busterboy is my instagram .... Stories are where the animals are at….the page is generally focused n my own two little critters.
What do you like to do in your spare time? : Funnily enough zoo keepers love to go to the zoo in their spare time…you would think we would have had enough of them. We also have a chocolate Lab called Buster so woodland walks are a great way to switch off in our house. I've also recently started playing cricket.
Who inspires you? : So many people… to name a few….obviously Sir David Attenborough, but also my parents, my partner and I would even go as far as Mrs Hinch!
If you work within the wildlife industry and would like to be featured as part of this blog series please pop me an email to [email protected]