Working with Wildlife - An interview with Catherine Partridge
Posted on
An interview with.....
This is a new series of blogs, of interviews with some wonderful people who work within the animal industry, from zoo keepers, to museum curators and everything in between and those that are on the path to working in these positions too. Be inspired for a future where you can combine your love of animals with your day job. I hope you enjoy these interviews, that you can learn something from them and they can inspire you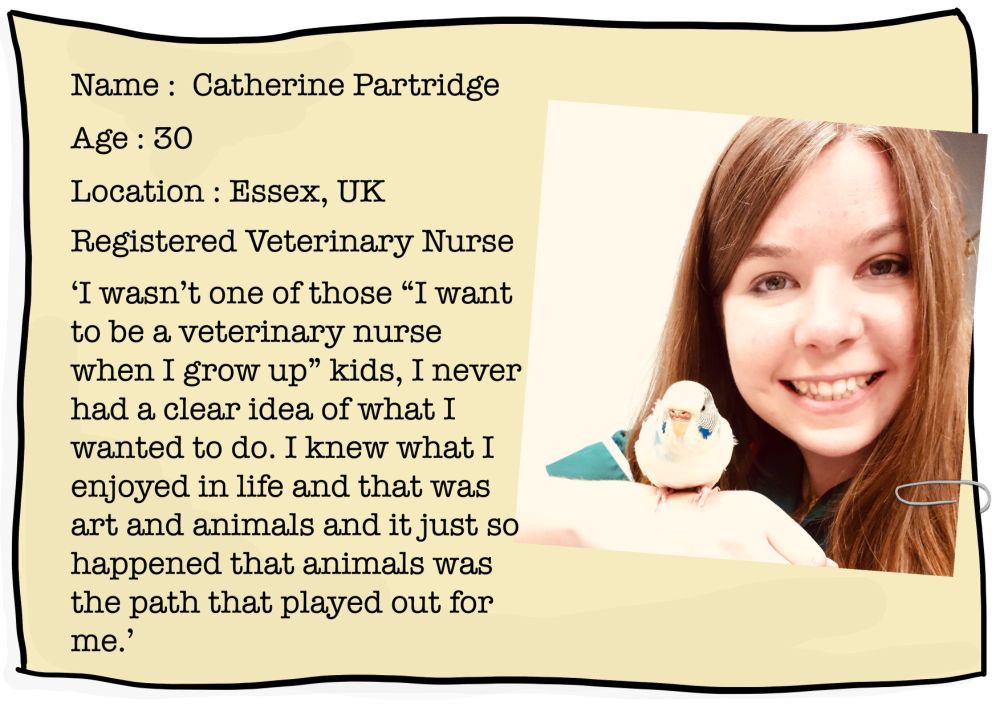 Now let me introduce you to Catherine......
Name
Catherine Partridge
Age
30
Location
Essex, UK
What do you do?
Registered Veterinary Nurse
How did you get into it?
I began my career with animals in a boarding kennels for dogs and cats. I walked the dogs, fed them and cleaned out their kennels. I then worked as a dog grooming assistant for a few years, bathing, drying and clipping coats. As fun as this was, spending all day essentially wet and smelling like dirty dogs - I found that I enjoyed the welfare side of the job more interesting than the styling! I loved talking to clients about their dog's health and how to promote good ownership. So that was when I decided I thought I might give veterinary nursing a go where I could focus completely on animal heath. I read that it was quite hard to get into so I sent my CV and a letter out to every vet practice in the area not hopeful I would hear back immediately. I don't know if it was just good timing but I managed to score a job with the first practice who responded to my letter!
What made you want to do what you do?
I wasn't one of those "I want to be a veterinary nurse when I grow up" kids. In fact, I never had a clear idea of what I wanted to do. I knew what I enjoyed in life and that was art and animals and it just so happened that animals was the path that played out for me and became my career. My interest in animal health, welfare and science developed over time and I basically had a "try it and see" attitude. I knew I wanted to promote good pet ownership and help animals in need, it just took a few attempts at finding the right job role for my passion!
Did you need and particular qualifications?
Yes, to work as a veterinary nurse in the UK you need a formal qualification and to be registered with the Royal College of Veterinary Surgeons. I took the Level 3 diploma route where I spent 3 years in practice as a student nurse learning the practical skills on the job and one day at college gaining all the theory knowledge, writing essays and taking exams. There is also the option to study veterinary nursing at university and achieve a degree.
Any tips for a young person that wants to do what you do?
A great way of gaining practical hands on experience with animals is through volunteering. Whether it be your local animal rescue centre, grooming parlour, pet shop, vets, stables, farm – anywhere! Any animal experience is better than no experience and make sure you've got your GSCE's A-C's in Maths, English and Science. It's good to get some experience under your belt as a lot of the time working with animals is mostly smelly, dirty and unpredictable – but all this is part of the fun! So it's good to know you're happy and comfortable to get your hands dirty and get stuck in.
What's the best part of what you do?
Seeing an animal recover from illness or injury and having a happy and grateful owner is definitely every veterinary nurse's goal and I'm sure would agree with me that it's the best part of the job. But it's also inevitable that even though we try our best, sometimes the outcome isn't that way and we lose our patients. That can be very tough. Although it never gets easier, you do learn how to handle these situations and remember to stay strong for their owners. Of course, puppies and kittens are great! Plus, every day is different – you never know what is going to come through the door so you're always kept on your toes. Being a veterinary nurse has allowed me to grow so much as a person. I remember going home from my first day in floods of tears – I had nearly passed out watching my first surgery! I thought I would never be strong enough to do the job. But I went back in the next day and watched an even bigger surgery and I was absolutely fine! 7 years later I'm still here and I have achieved and seen some things I never thought I would. I'm very proud that veterinary nursing has made me the person I am today and would like to encourage others who are considering a career in veterinary that the same can happen to them!
What's your favourite animal?
My absolute favourite animals are lions.
What was the first animal that you fell in love with?
Cats – I have always had cats in the family and I just love their independent, don't care, going-to-do-my-own-thing attitude!
What do you like to do in your spare time?
Art – my other passion. I paint all the animals that inspire me! I run my own website selling handmade cards, prints and gifts of my artwork.
If you weren't doing what you do now what else would you love to do?
I would love to try zookeeping! I absolutely love going to zoos, visiting the animals and the important work they do for conservation and endangered species. I would love to be a zoo veterinary nurse. Maybe one day I'll get there!
Who inspires you?
I constantly feel inspired by my veterinary colleagues - it's such a great industry to work in, as everyone is committed to animal welfare and are working towards the same goal!
Where can people find you?
www.phatpartridgecreations.com
@phatpartridgecreations on instagram