Working with Wildlife - An interview with Taylor Norris
Posted on
An interview with.....
This is a new series of blogs, of interviews with some wonderful people who work within the animal industry, from zoo keepers, to museum curators and everything in between and those that are on the path to working in these positions too. Be inspired for a future where you can combine your love of animals with your day job. I hope you enjoy these interviews, that you can learn something from them and they can inspire you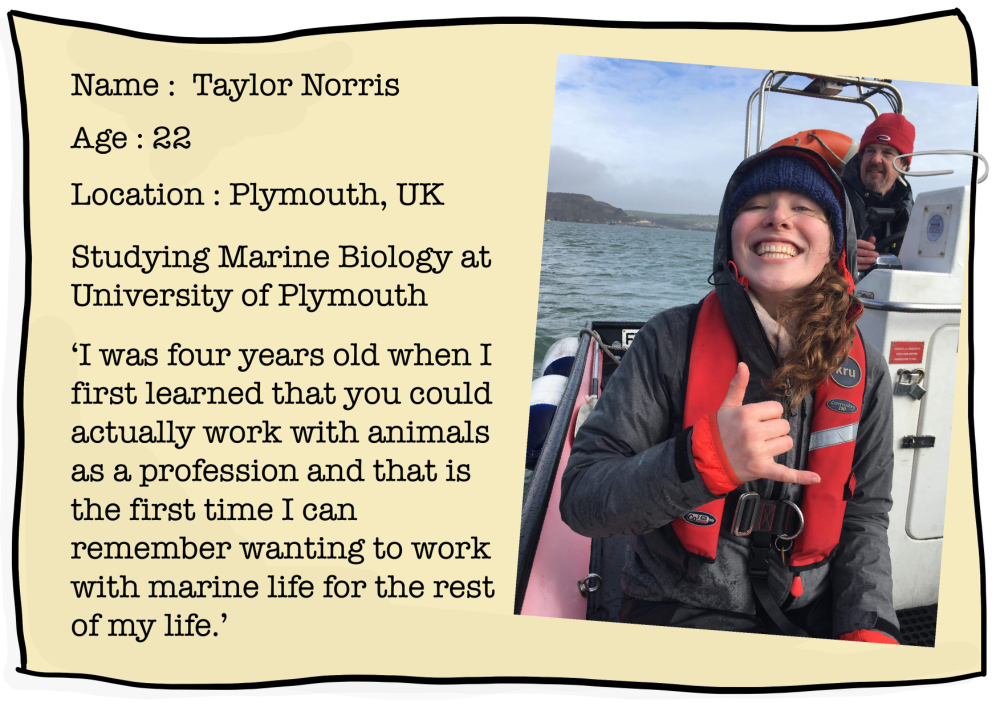 Now let me introduce you to Taylor....
Name:
Taylor Norris
Age:
22
Location:
I am from Vancouver, Canada but am going to university in Plymouth, England
What do you do?
I am attending the University of Plymouth studying Marine Biology
How did you get into it?
For me, I have always wanted to be a marine biologist. I believe a lot of this can be credited to where I grew up and my family's great interest in and love for the natural world. Having grown up in Vancouver, the sea was right at my doorstep just waiting to be explored every time my sister and I left the house. It has always been a huge part of my life and for that I am eternally grateful.
What made you want to do what you do?
My family and I have been going to the Vancouver Aquarium for my whole life, but I think I was four years old when I first learned that you could actually work with animals as a profession and that is the first time I can remember wanting to work with marine life for the rest of my life. This one thought of one day becoming a marine biologist has always been in the back of my mind after that and has driven me to get to where I am now and will continue to drive and inspire me for the rest of my life.
Did you need particular qualifications?
To get into a science degree you do need certain qualifications in the sense that universities are looking for certain grades and proof that you have taken certain classes to prepare you for what you will learn in higher education but they are also looking for experience. When I graduated high school, I didn't have the qualifications necessary to get into a science program and so had to do some extra classes at a small university in Vancouver, where I come from, in order to get into the university here in Plymouth but what also helped me get in was all of the volunteering I had done before applying. This question is interesting because the main reason why I am going to university I suppose is so that I will have qualifications for jobs that I am hoping to get after this degree. But along with universities looking for experience that you may have, employers also look for these things too and so it is never a bad idea to start volunteering and getting involved in your community.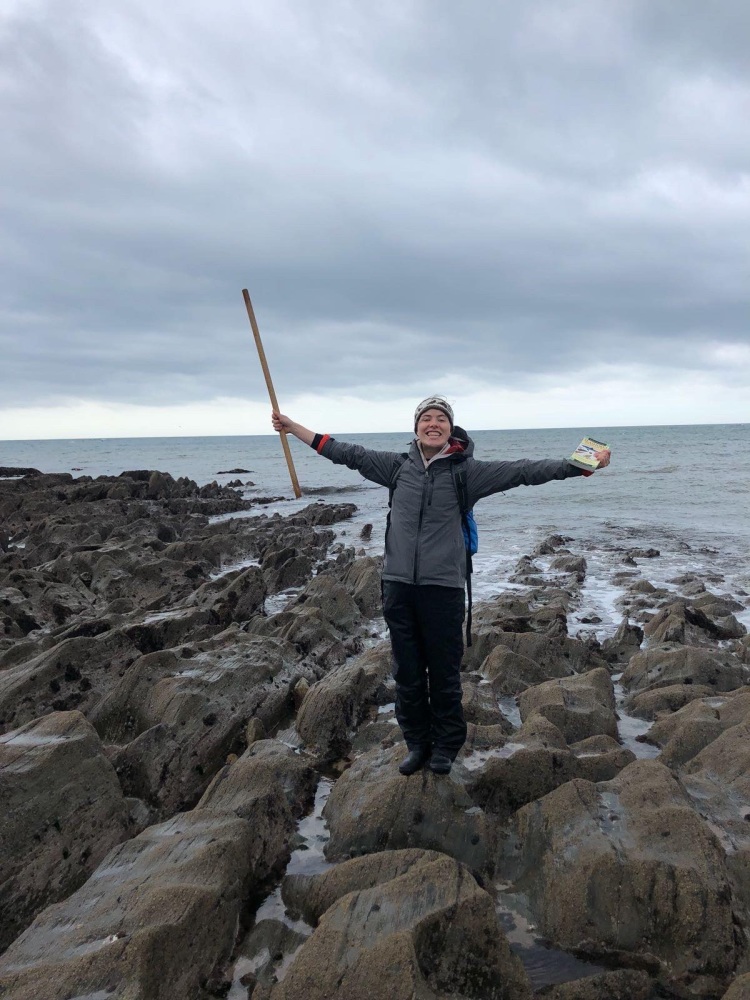 Any tips for a young person who wants to do what you do?
Volunteer! Get involved in any way you can. Here at university they are always telling us that it looks really good on your CV and helps you get positions at universities or jobs, which it absolutely does, but for me, I didn't do it because I thought it would look good on my CV, I volunteer because it is fun and because I love it! I have been volunteering for organisations dedicated to the protection, conservation, rescue, rehabilitation and education of marine life, formally, since I was 11 years old. As soon as I was old enough to start teaching people about what I loved so much and to help in any efforts to conserve and rehabilitate marine organisms I was ready to go. This helps in many ways that are unknown to you if you start that young. When I was 11 I had no idea that I was gaining communication, public speaking and problem solving skills I was just keen to tell people all that I knew about the animals that were in the small aquarium on Vancouver Island that I started my volunteering career at.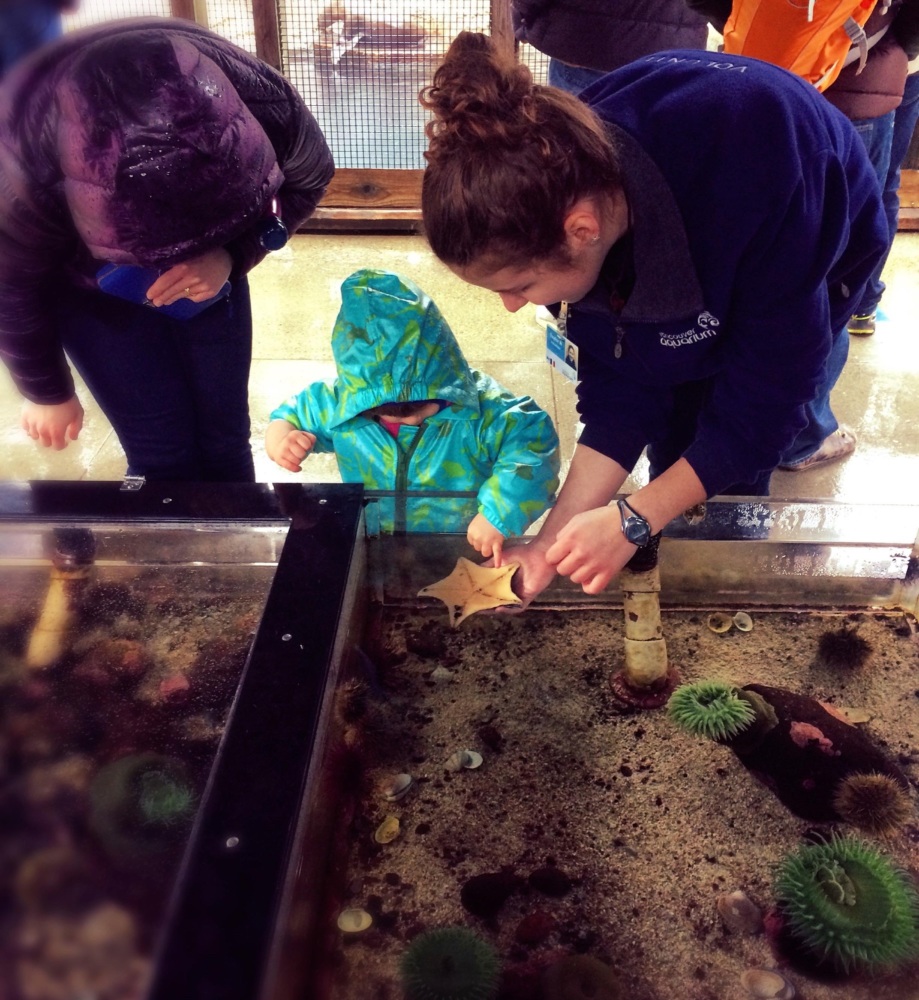 What's the best part of what you do?
If there is one thing that I can say I enjoy doing most, it is learning and as a university student there is no shortage of that. I love all the lectures and practicals that we have but I suppose if I had to choose something that I loved most of all about the course that I am on it is the field work. I have been lucky enough so far in my career as a university student to have been taken out in the field in Plymouth, France and Portugal and I loved every moment of all of these trips.
In the way of volunteering though, when I am at home in Vancouver, I am an animal husbandry assistant in the tropics section at the Vancouver aquarium and I love taking care of the animals there in that department which mostly involve an array of beautiful fish and invertebrates. This I really love and strive to get a job doing after my time in university is over. But something that I find absolutely incredible and extremely rewarding is teaching, this is something that I do at the Vancouver Aquarium as well and something that I had no idea I would love so much until I started about 4 years ago.
What's your favourite animal?
This is a really hard question for me because I love so many. I do tend to like really odd animals and I think this is because not very many people know about them and I find great fun in educating people. This is one reason why I absolutely love Button and Squirt. Not only do I love the artistic representation of different animals and the information about them but the decision to showcase weirder animals than one would normally come across in a book or on a nature show is awesome!
Some animals that come to mind right now though are Amazon River Dolphins, Binturongs, Aye-Ayes, Pangolins, Mudskippers, Grunt Sculpins, Arapaimas, Fiddler Crabs, Epaulet Sharks, Platypuses, Sifaka Lemurs, Puffins, Kakapos, Wetas, Cownose Rays and in the way of extinct animals Parasaurolophuses and Velociraptors.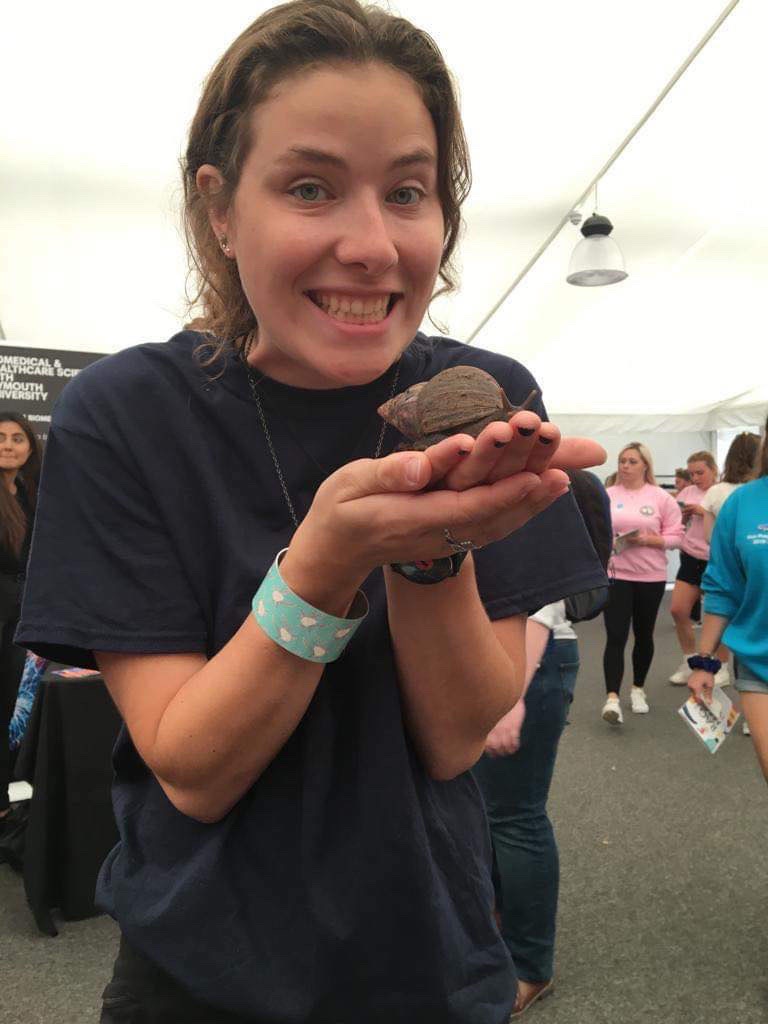 What was the first animal you fell in love with?
I believe the first animal that I just loved was the Sifaka Lemur. My sister and I always watched this show when we were young called Zaboomafoo which was done by these brothers Chris and Martin Kratt who are Biologists and Zoologists from the States that use entertainment to teach kids. They're newest kids show now is called Wild Kratts. They have done other shows before and after Zaboomafoo as well that pertain to different age groups. Even as an adult now I still find them all really great to watch. Zaboomafoo was a puppet Sifaka Lemur that they featured on the show because at the time not very many people knew about Madagascar and the wonders it beheld and they wanted the focus to be on that but for each episode they featured a new animal whether they were weird ones or more common. I would recommend this show to anyone. I think the whole thing is on YouTube these days.
What do you like to do in your spare time?
Apart from volunteering, I love to paint and draw, mostly animals which comes in handy for our field notebooks that we have to make for field courses here at university. I also love playing sports like football (soccer in Canada haha), basketball, volleyball and cricket and I love going for walks and hikes (especially in Vancouver, there are some beautiful hikes over there). I love watching movies and nature shows, reading books and I absolutely love listening to music and playing my guitar. Traveling as well as turned into something that I really love (when I have the means haha) that is one of the reasons I came all the way to England for university, I really enjoy seeing different parts of the world (and the different creatures that live there).
If you weren't doing what you are doing now, what else would you love to do?
I don't really know actually, probably still something to do with biology, probably zoology or general biology. I do have a real love for music though that has sort of taken shape during the years that I have been out of high school so maybe something in that industry. I'm not sure.
Who inspires you?
For the field that I am going into, Chris and Martin Kratt, David Attenborough, Jane Goodall, Steve Irwin, Jack Hanna, the trainer at the Vancouver Aquarium that I first talked to about working there, his name is Indie, some of my teachers here at university, some of my teachers in lower school and high school and my family.
Where can people find you?
The only account that I have that is open for anyone to follow and has to do with what I am currently learning at university is a twitter account. I am not on it too too often, but it still shows what I am up to sometimes. It is called crazycreatures5. Also if anyone has any questions my email is [email protected] and I would love to answer them!
If you work within the wildlife industry and would like to be featured as part of this blog series please pop me an email to [email protected]