Working with Wildlife - An interview with Monika Ndafuda Nanghama
Posted on
An interview with.....
This is a new series of blogs, of interviews with some wonderful people who work within the animal industry, from zoo keepers, to museum curators and everything in between and those that are on the path to working in these positions too. Be inspired for a future where you can combine your love of animals with your day job. I hope you enjoy these interviews, that you can learn something from them and they can inspire you.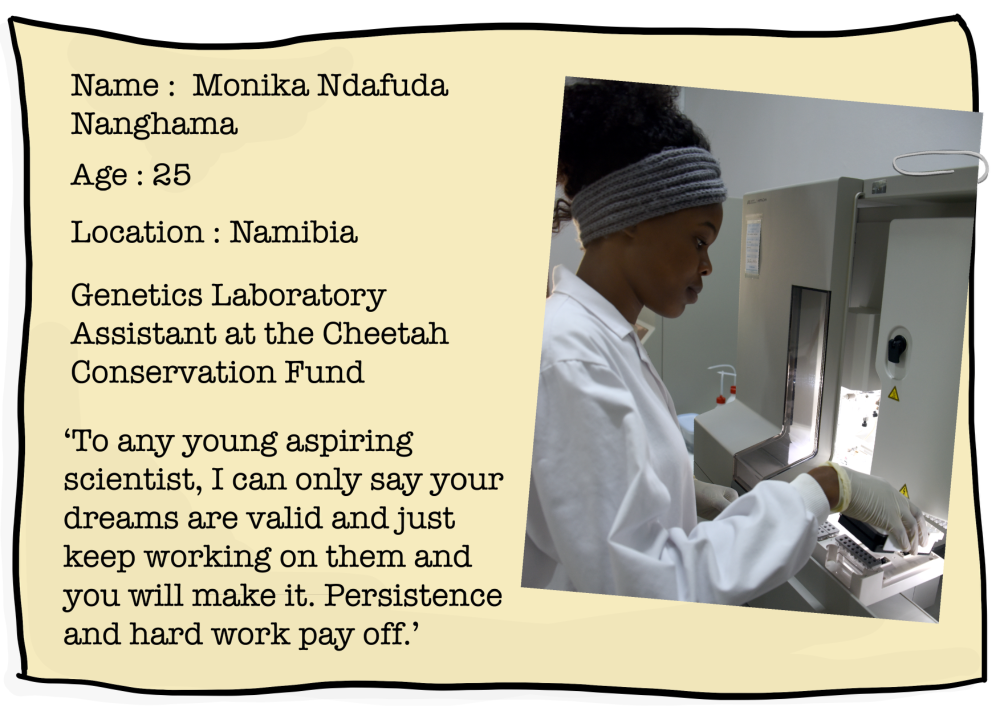 Now let me introduce you to Monika....
Name:
Monika Ndafuda Nanghama
Age:
25
Location:
Namibia
What do you do?
I work as a Genetics Laboratory Assistant at Cheetah Conservation Fund, Namibia.
As part of my duties and responsibilities as a laboratory assistant I have processed a lot of samples and performed a lot of DNA extractions from various sample types e.g. Blood and Tissue as well as scat, perform PCRs for both Species identification of carnivores using Sanger sequencing and for Individual identification using microsatellite markers. I have also trained a lot of student's interns from different universities like UNAM and NUST as well as visiting scientists from around the world; I have also guided a lot of tours around the genetics laboratory because of my good public speaking skills that I gained through presentations. I have also done some good filming for the lab and my favourite was when I recently with CNN inside Africa.
How did you get into it?
I did my bachelor's degree in biotechnology in India and I left India as soon as I was done, I came back to Namibia. I was looking for internships to do all so I can gain experience in my field of study. I impressed my supervisors and they offered me a job as a laboratory assistant and have been at CCF ever since 2017.
What made you want to do what you do?
Forensics is something I have always been passionate about; I have always watched shows like CSI, Criminal Minds, Bones and Nikita, shows that has a great scientific fiction base. This is why I decided to study Biotechnology and now I am lucky enough to be doing forensics in my own country and in the only in-situ Genetics laboratory in Africa. Conservation is a really important field in Namibia as it contributes a lot to our GDP.I would love to work towards the conservation of the cheetah and their ecosystem so I can keep wildlife around for the coming generations.
Did you need and particular qualifications?
Yes, for me to work in the Genetics lab I needed a Bachelor's in science related fields. I have a Bachelor's in Biotechnology from the University of Madras, India.
Any tips for a young person that wants to do what you do?
To any young aspiring scientist, I can only say your dreams are valid and just keep working on them and you will make it. Persistence and hard work pay off.
What's the best part of what you do?
Laboratory work. Any minute I get to spend with the Genetic analyser or a pipette is always the happiest minute of my day. I also enjoy taking tourists from all over the world around the lab.
What's your favourite animal?
Definitely a Cheetah.
What was the first animal that you fell in love with?
A dog, my little sister had a beautiful dog named Security and Security literally raised my sister as they would eat together, play and she would fall asleep next to Security.
What do you like to do in your spare time?
Posting for the camera is one of my biggest hobbies; I modelled professionally for an American company called Sudara.I also enjoy watching series and snacking ha!
If you weren't doing what you do now what else would you love to do?
If I wasn't a scientist, I would have been a nurse. I think Nurses do the most important role in our daily lives and I love helping people.
Who inspires you?
My mother. My mom is the hardest working woman I know and she has instilled the hard working ethic in me from a young age.
Where can people find you?
Instagram: moniecar
Twitter: MonieCar @mondana8
Linked in: monika ndafuda
Facebook: Angel Moniecar