Working with Wildlife - An Interview with Roxy the Zoologist
Posted on
An interview with.....
This is a new series of blogs, of interviews with some wonderful people who work within the animal industry, from zoo keepers, to museum curators and everything in between and those that are on the path to working in these positions too. Be inspired for a future where you can combine your love of animals with your day job. I hope you enjoy these interviews, that you can learn something from them and they can inspire you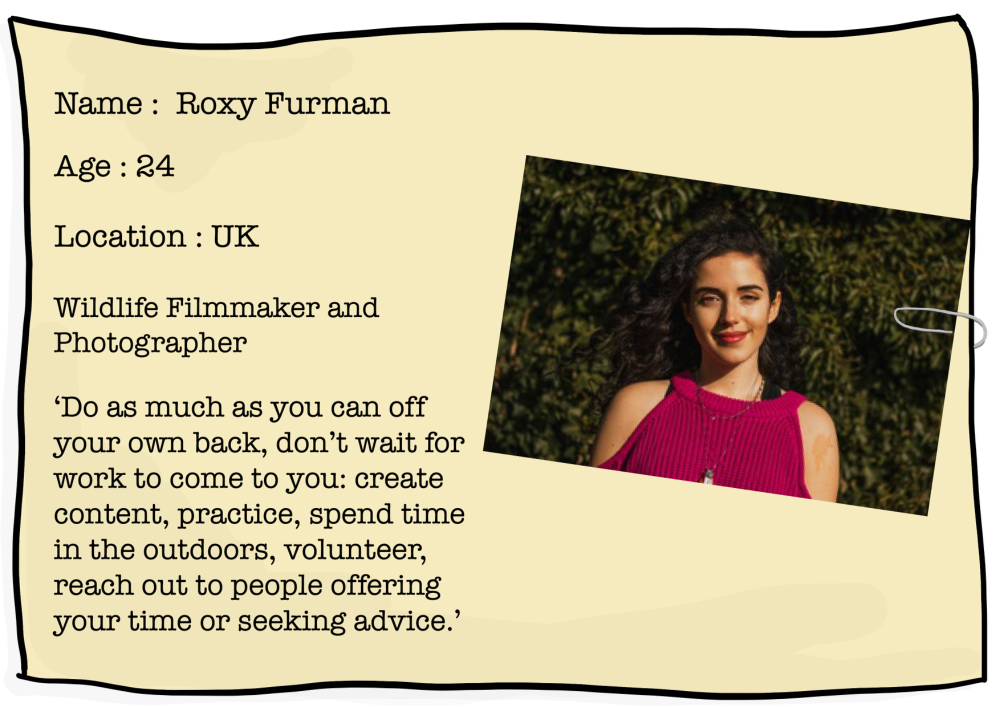 Now let me introduce you to Roxy...
Name:
Roxy Furman (Roxy The Zoologist online)

Age:
24

Location:
UK

What do you do?
Wildlife Filmmaker and Photographer
What does it involve?
Telling stories about the animals and the natural world, encouraging people to act to help conserve and protect them.

How did you get into it?
Lots of volunteering, obtained a First Class Honours degree in Zoology (INT), set up my own business (Zephyr Eco Market), practiced practiced practiced and shared on social media, enrolled onto a Masters in Wildlife Filmmaking at UWE run in conjunction with the BBC NHU.

What made you want to do what you do?
I could see what us as humans were doing to animals and the planet and wanted to help put a stop to our abuse of the natural world, inspiring people to live more harmoniously, creating a kinder, greener, wilder place for us all to live.

Did you need and particular qualifications?
Yes (see above) although not essential, what you need is experience (which you can get yourself by practicing and creating your own content).

Any tips for a young person that wants to do what you do?
Do as much as you can off your own back, don't wait for work to come to you: create content (you don't need a fancy camera, you can use your phone), practice, spend time in the outdoors, volunteer, reach out to people offering your time or seeking advice. Show your genuine passion and keep fighting, and you will get there!

What's the best part of what you do?
Feeling like I am helping animals.

What's your favourite animal?
I have two - Elephants and African painted wolves.

What was the first animal that you fell in love with?
Orangutans

What do you like to do in your spare time?
Photography! It is like meditation to me.

If you weren't doing what you do now what else would you love to do?
Field research in the jungle somewhere collecting scientific data and making new discoveries.

Who inspires you?
Liz Bonnin

Where can people find you?
@roxythezoologist on all social platforms
website is www.roxythezoologist.com

If you work within the wildlife industry and would like to be featured as part of this blog series please pop me an email to [email protected]