Working with Wildlife - An Interview with Amber Flewitt
Posted on
An interview with.....

This is a new series of blogs, of interviews with some wonderful people who work within the animal industry, from zoo keepers, to museum curators and everything in between and those that are on the path to working in these positions too. Be inspired for a future where you can combine your love of animals with your day job. I hope you enjoy these interviews, that you can learn something from them and they can inspire you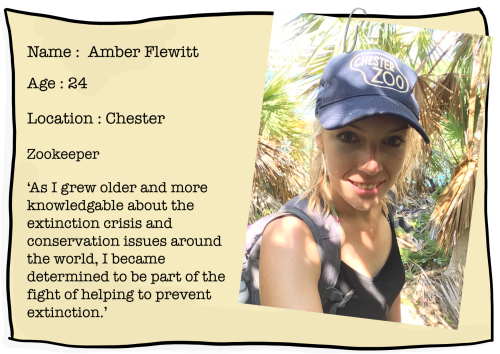 Now let me introduce you to Amber…
Name
Amber Flewitt
Age
24
Location
Chester
What do you do?
Zookeeper
How did you get into it?
I've always known it was what I wanted to do, so took every step that I could from a very young age to gain enough experience to get my dream job. I started volunteering at local animal charities from around age 11, and went on to get two degrees in Wildlife Biology and Zoo Conservation Biology, as well as doing a year long internship at Chester Zoo before being offered a job there. Chester Zoo is a conservation and education charity, working to prevent extinction around the world, and I did two years within the zoo's education department before taking on my current keeper role.
What made you want to do what you do?
I grew up on a farm which I think inspired my love of animals, and with living locally to Chester Zoo we used to visit frequently, and I just became enamoured with the more exotic and tropical species. I used to chat to the keepers at the zoo and just knew that was what I wanted to do when I grew up. As I grew older and more knowledgeable about the extinction crisis and conservation issues around the world, I become determined to be part of the fight of helping to prevent extinction, and so working for a zoo that is so active in helping to tackle these issues was very important to me.
What does it involve?
I work mostly with terrestrial invertebrates at the moment, so day to day I'll be looking after dozens of different species, all with unique needs. As the species are mostly from tropical climates the work can be very hot and humid but I'm used to it now! A lot of time is spent changing the food plants of the many stick insects and caterpillars, as well as carefully picking out eggs from the substrates, and as they are usually very tiny this can be very time consuming! The zoo is involved in breeding programmes for highly endangered species, including some tropical snails, and these all require high levels of management which again takes up lots of time. It is important to know how many animals of these species we have, so meticulous counting of them is necessary – and when you have ~15,000 of some of the species (the hatchlings of which are only ~2mm long) this can take several weeks! Preparing the specialist diets of all the other species, keeping their habitats clean, and managing the breeding of the populations is also a big part of the job, as well as writing husbandry guidelines for certain species and participating in any scientific research which may be happening at the time.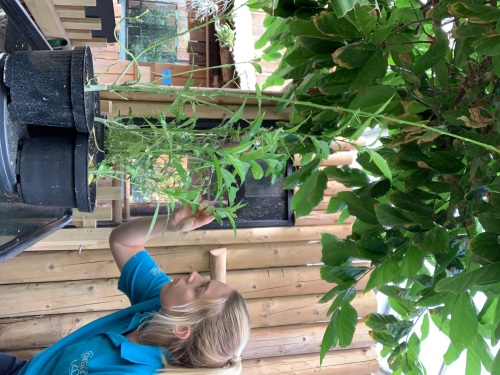 Did you need and particular qualifications?
Yes, I have an undergraduate degree and a Masters degree in zoological sciences, so I am very interested in the science and research activities that progressive zoo's carry out. There are though many amazing keepers out there who don't have a degrees, so there are plenty of different ways to get into the job. It is however becoming increasingly competitive to get into this field, so obtaining a relevant degree is becoming more and more necessary to get a zoo keeping job.
Any tips for a young person that wants to do what you do?
Get as much experience as possible! Any experience is good experience, just be pro-active and hardworking and show your enthusiasm for what you're passionate about. You may not start by working with the animals that are your favourite, and you certainly won't just get to play with cute animals all the time (we barely even touch any of them), but as long as you're realistic about that and show your determination you should be just fine. Start by getting some work experience in your local vets or animal sanctuary, and then see if there are any voluntary positions going at your local zoo, and then look at internships. Take any opportunities available to you and be prepared to work hard!
What's the best part of what you do?
Getting to see animals that we have bred at the zoo being released into the wild; that's definitely a career highlight! I also love being able to share my love of animals that people usually find gross or weird such as bugs and snails, and show people how interesting and worthy of saving they are.
What's your favourite animal?
Octopus are my favourite – they can change colour and shape and are exceptionally clever, and display lots of other truly fascinating behaviours that are not seen in other invertebrates!
What was the first animal that you fell in love with?
I was given a kitten for my fourth birthday, I named her Jess after postman Pat's cat, and I loved her immensely. We had always had pets but she was the first pet that was truly mine, and we had an incredible bond. She didn't really like anyone else but she trusted me, and she stuck closely by my side for around 10 years. She was feisty but very loyal, which kind of mirrors my own personality!
What do you like to do in your spare time?
I try and get out to do volunteering with local wildlife wherever possible, including surveys for native bats, reptiles, amphibians and butterflies. I also go and help in a local animal sanctuary by walking the dogs when I can, as well as visiting other zoos around the country and the world whilst on holidays. I've recently been trying to improve my gardening skills and have been trying to make my garden as wildlife friendly as possible. A big hobby of mine however is baking, and this I think has improved my popularity with my colleagues!
If you weren't doing what you do now what else would you love to do?
I'd love to make cakes for a living! Or failing that, I'd love to be a midwife but I think I'm too squeamish.
Who inspires you?
Like most naturalists I was heavily inspired by both Sir David Attenborough and Steve Irwin. I loved that Steve Irwin championed the more mis-represented animals such as snakes and crocodiles, and I still keep up with the work of his family now.
Where can people find you?
Instagram: amberflew2

If you work within the wildlife industry and would like to be featured as part of this blog series please pop me an email to [email protected]