Working with Wildlife - An Interview with Emily from Hemsley Conservation Centre
Posted on
An interview with.....

This is a new series of blogs, of interviews with some wonderful people who work within the animal industry, from zoo keepers, to museum curators and everything in between and those that are on the path to working in these positions too. Be inspired for a future where you can combine your love of animals with your day job. I hope you enjoy these interviews, that you can learn something from them and they can inspire you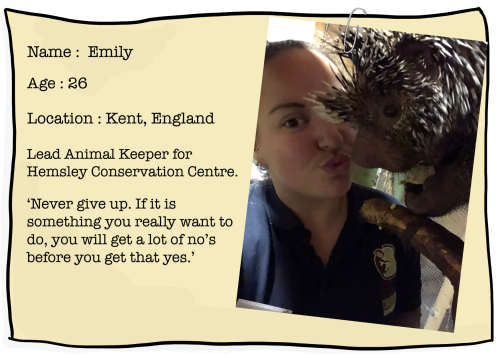 Now let me introduce you to Emily

Name
Emily
Age
26
Location
Kent, England
What do you do?
Lead Animal Keeper for Hemsley Conservation Centre
How did you get into it?
I studied Animal Conservation and Biodiversity at university, and during this time I picked up a part-time job on retail at a zoo. From there, I managed to gain voluntary positions, before eventually moving onto the education department after graduating. From my role in education within a zoo, I moved onto the keeping side of things. My role now allows me to do zookeeping and public interaction.
What made you want to do what you do?
I have always been inspired by nature, from finding bugs in the garden, pond dipping, to visiting zoos and wildlife parks. I have been fortunate enough to have always known I wanted to work with animals.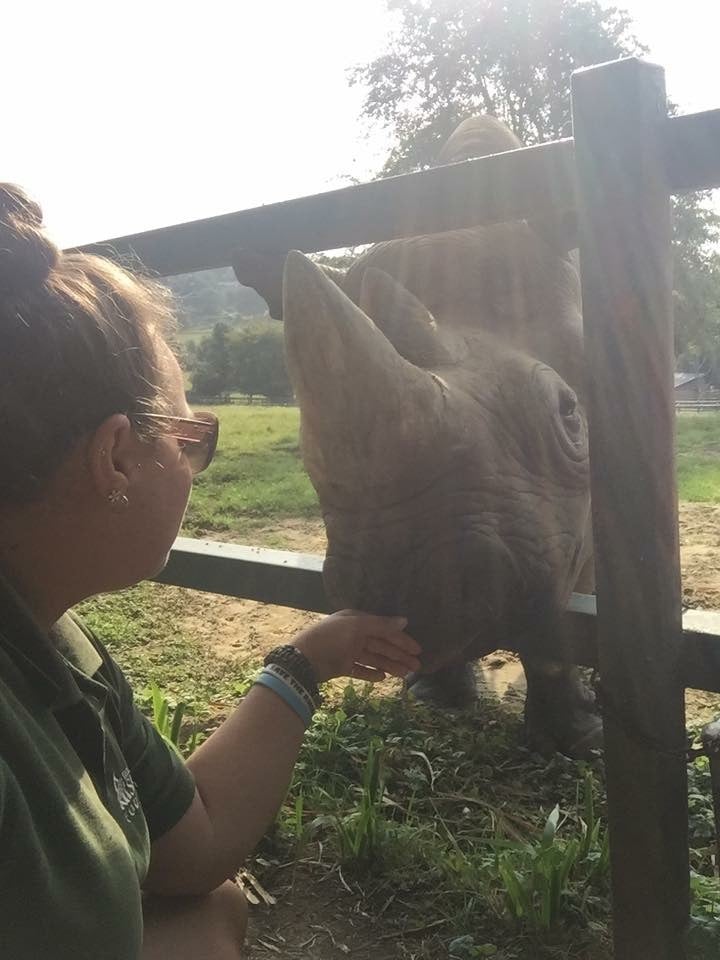 What does it involve?
My role is very diverse. It includes animal husbandry across all species in the zoo including training and enrichment. I am involved with delivering engaging talks, encounters and experiences to members of the public and doing school talks where required.
Did you need and particular qualifications?
Most zoos will ask for a minimum of a Level 3 animal qualification. I will always recommend a nice combination of qualifications and experience.
Any tips for a young person that wants to do what you do?
Never give up. If it is something you really want to do, you will get a lot of 'no's' before you get that 'yes'. I would recommend volunteering with animals as soon as possible (kennels, catteries, stables, vets, zoos etc) all help towards relevant experience. If you can manage to get into a zoo through volunteering or a job on another department within the zoo, you will make yourself more known and a good candidate if a job were to come up.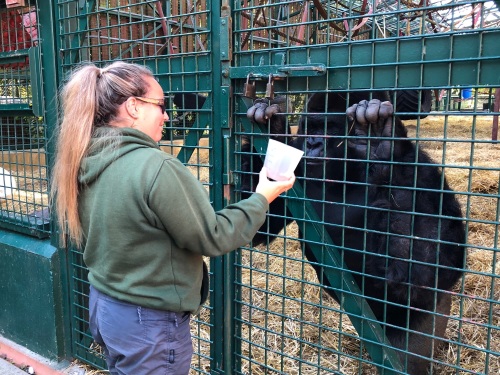 What's the best part of what you do?
Seeing the animals every day, and building up a really nice working relationship with them. I see the animals more than I do my family!
What's your favourite animal?
This is a really tricky one. I love rhinos, in particular the African species (black and white rhino). However, I also have a VERY soft spot for gorillas. They are an absolute fascination of mine, and a species I have been lucky enough to work with.
At work, my favourite animals have got to be the tayra, prehensile tailed porcupines and our geoffroy's cat.
What was the first animal that you fell in love with?
A rhino. I remember visiting South Africa for the first time when I was 14, and there was a really nice moment watching a bull white rhino grazing with a sunset behind him. It is a moment I will treasure with me forever.
What do you like to do in your spare time?
I enjoy researching things (expansion of knowledge is very important in zoo work), baking and I have just started scrapbooking!
If you weren't doing what you do now what else would you love to do?
I'd love to be involved with or running conservation projects, most likely overseas.
Who inspires you?
Sir David Attenborough (obvious answer). I have also been inspired by people I have met in my career, including managers and colleagues (past and present).
Where can people find you?
Instagram is @xemilywood
Work website: www.hemsleyconservationcentre.com
If you work within the wildlife industry and would like to be featured as part of this blog series please pop me an email to [email protected]