Working with Wildlife - An Interview with Mark Kingston Jones
Posted on
An interview with.....
This is a new series of blogs, of interviews with some wonderful people who work within the animal industry, from zoo keepers, to museum curators and everything in between and those that are on the path to working in these positions too. Be inspired for a future where you can combine your love of animals with your day job. I hope you enjoy these interviews, that you can learn something from them and they can inspire you.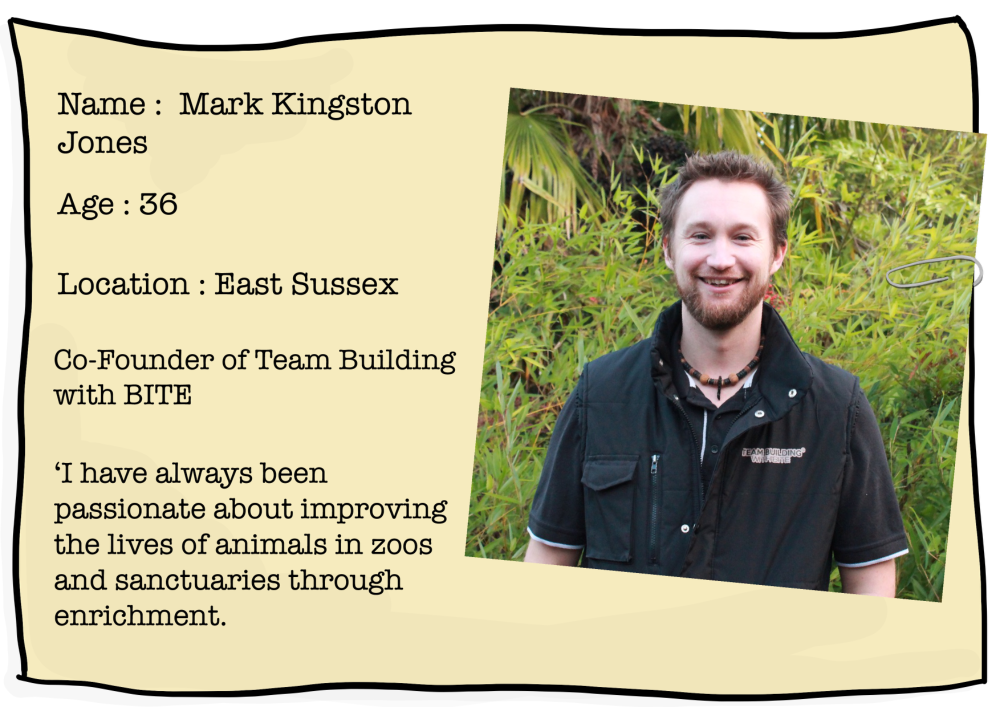 Now let me introduce you to Mark...
Name
Mark Kingston Jones
Age
36
Location
East Sussex
What do you do?
I am the Co-Founder of 'Team Building with BITE' and a Workshop Coordinator for international charity 'The Shape of Enrichment, Inc.'
How did you get into it?
I get asked that a lot and it is not an easy answer! I always wanted to work with animals, but was put off the idea by teachers at school because they said I did not have a strong enough biology background. When I went on a gap year I took part in some animal related opportunities in Africa, and that rekindled the dream for me. When I started University the year after I managed to focus my Psychology degree on animal behaviour. I started conducting research at a local safari park, where I designed a remote controlled car for lions with a friend of mine. The research lead me onto a Presenter job when I graduated, and things grew organically from there.
What made you want to do what you do?
Over the years I have always been passionate about improving the lives of animals in zoos and sanctuaries through enrichment (that is the name we use for things like puzzle feeders and enclosure furniture that are designed to keep animals mentally and physically fit and healthy), but keepers and caregivers are almost always limited by time and money. So I have always tried to find ways to increase what we do, by getting other people to pay for it, and by spreading the word to people who work with animals around the world.
What does it involve?
Our team building events get companies to pay to build enrichment items for the animals, so they put in both the time and the money. We tailor the designs for the animals so that it fits the company's needs, as well as improving animal welfare, and at the end of the event the people get to see what the animal thinks of all their effort, so the people have a lot of fun, and the animals get something they would not have had otherwise. The really great thing about it is we can prototype new ideas that we might not have been able to try otherwise, and then we share then with keepers around the world who can then develop those ideas for their own animals too. Through SHAPE we run training workshops for students and keepers all over the world, giving them the skills and ideas they need to develop their own programmes for the animals they look after. I have been lucky enough to on teach 64 courses in 13 different countries over the last 11 years, in Europe, the USA, Africa, and Asia.
Did you need any particular qualifications?
I have a BSc in Psychology, and I don't think this qualification was a particular requirement for anything I have done, although I worked in zoo education for about 8yrs so it certainly helped! The contacts and support I picked up while at University, have been absolutely vital in getting to do some of the things I have done over the years though.
Any tips for a young person that wants to do what you do?
Grab every opportunity available to you, even if you are not quite sure where it will lead, and don't let bumps in the road hold you back. I missed out one of the grades I needed to get into University first time round by just 6 points, so I took the gap year to retake an exam. If I had not done that, I never would have got to where I am now.
What's the best part of what you do?
Getting to see incredible animals do what they do best. I love watching animal behaviour, seeing them working around problems and challenges we have set them, and very often finding ways to solve those challenges in ways we would never have expected! I also love that we get to work with so many different locations and people, as it provides a constant opportunity to learn new things!
What's your favourite animal?
I am a carnivore fan in general, but the Africa wild dog is my absolute favourite! They are so underappreciated, but they are the most amazing species to watch and learn about!
What was the first animal that you fell in love with?
When I got my first zoo job I lived in a caravan on site and was inherited by a cat called 'Footwear', we had always had dogs growing up, but never a cat, and he was such an amazing character. I have been a cat person ever since!
What do you like to do in your spare time?
I am an animal geek, and I like to say I made my hobby my work, but in my limited spare time I like to spend time with my daughter and work in the garden.
If you weren't doing what you do now what else would you love to do?
I think I would have to be a gardener so I could spend time outside amongst nature and wildlife.
Who inspires you?
Over the years I have been truly inspired by a colleague and friend, who sadly recently passed away. He dedicated his life to improving animal welfare, worked tirelessly for the cause, and never shied away from a debate, no matter how controversial. He also left behind a legacy of incredible designs that will continue to be used by animals all over the world for many many years to come. He challenged people to be accountable for the work they do with animals and I hope to live up to that challenge!
Is there anything else you would like to tell us about?
We want to get more and more people excited about behaviour and enrichment, so have recently started a membership platform, where each month we will create new enrichment for different animals at different locations funded by our subscribers. From feeders and furniture, to whole enclosure make-overs, we want to share amazing animals and their behaviour with people, and also share the amazing feel-good factor you get from supporting animal welfare.
Where can people find you?
https://www.patreon.com/TeamBuildingwithBITE
https://www.facebook.com/TeamBuildingWithBite
https://www.instagram.com/teambuildingwithbite

If you work within the wildlife industry and would like to be featured as part of this blog series please pop me an email to [email protected]