Newest Arrival - Axol and Friends
Posted on
I am so excited to be able to introduce you to the newest brand that I have brought into stock here at Button and Squirt to sell alongside my Amazing Animals range.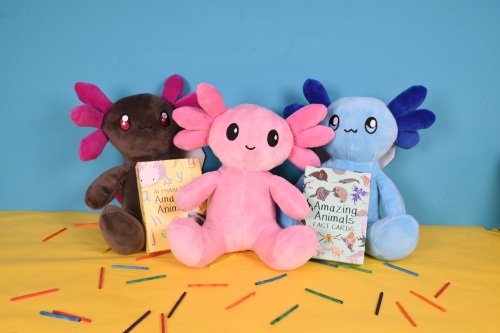 Let me introduce you to the wonderful Axol and Friends. A company that has education and conservation at its heart. Their whole range has been designed to teach kids about some amazing endangered animals, to help to protect them for the future.
They teach through their lovely story book, Axol and Friends , The adventure begins, where you get to meet Axol the Axolotl and see him meet his first friend Java the Pangolin.
Their range of cuddlies have been designed in the image of the amazing and endangered axolotl and pangolin. So much thought has gone into creating adorable and cuddly buddies to help kids fall in love with these animals. They are made from organic cotton and recycled plastic, the company plants trees for every item sold and they donate a portion of their profits to youth empowerment organisations, which help to educate kids about the animals.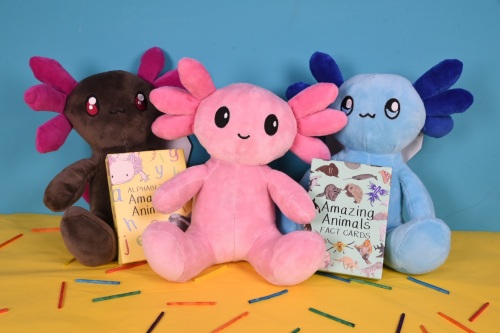 I am so happy to be welcoming three Axol plushies, Java plushie and the storybook to my range, along with a very limited amount of special autographed gift bundles.
If you want an Axol in your life you can choose from Pink, Blue or Black, I'm not sure I can pick, we might need to keep one of each along with an adorable Java the Pangolin.
These soft and cuddly little buddies are the perfect item to gift alongside our Amazing Animals range, theres an Axolotl in the Alphabet of Amazing Animals and Amazing Animals Set One and theres a Pangolin in Amazing Animals Set Two, make a perfect gift bundle for any young animal lover. Teach them about the amazing animals we share the planet with so they can fall in love with them and want to protect them for the future.