Oh my goodness guys I can't actually believe that I am about to write this but here goes...
Amazing British Bugs ID Cards have won the best educational toy at the 2022 Blog On Toy Awards!!!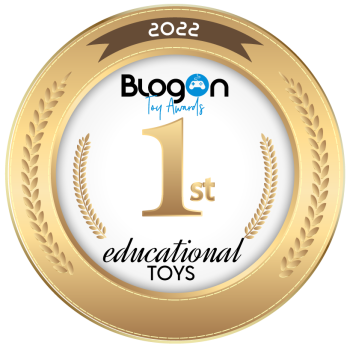 Honestly I am utterly speechless right now.
I don't normally enter awards (pretty much solely because of the costs....but more on that another time), but when I heard about the Blog on awards I decided to give it a go. I entered two sets of cards into the awards and then didn't really think about it again, until I attended the blog on conference. The idea of entering was more about the experience and giving it a go, I had absolutely zero expectation of winning anything.
The blog on conference was held on October 8th 2022, in Bracknell at the Coppid Beech Hotel, I took my amazing animals range along and spent the day meeting lots of lovely people from the blogging and influencer world, introducing them to my amazing animals. The awards were voted for at the conference, and I excitedly went to the awards room to see who I was up against.
Honestly when I saw the category and the other toys in the running I suddenly felt very small, there were so many well known brands in the running and I didn't think my cards would stand much chance up against the big boys. I snapped a photo for the memories and got back on with my day, it was so lovely being able to talk about what I do and why all day long.
Everyone attending the conference was given the oppurtunity to vote in the awards, with lots of different categories to vote in. They had the chance to have a look at everything up for an award and then give their opinion.
The day came to an end, I packed up and headed home with a big smile on my face after having such a wonderful day.
Fast forward to this morning, I flicked my computer on and grabbed myself a cuppa so I could sit and go through my emails, and there sat at the top of my inbox was an email from Blog on announcing the winners of all the awards, and I had to read it a couple of times when I got to the educational toy category and realised there I was in 1st place!
I am so grateful to everyone that voted for me, and made an amazing day even better with this recognition for one of my newest sets of cards. I really can't explain how much it means to me. It is such a boost, and such an amazing thing to be able to shout about.
So here we are, here is the winner of best educational toy from the Blog On toy awards 2022, Amazing British Bugs ID Cards.
Available to order here.